3-IN-1 BOTTLE STERILISER, WARMER, AND DRYER
Regular price

$189.95

Sale price

$139.95
Welcome to Eonian Care's 3-in-1 Bottle Steriliser, Warmer and Dryer – the ultimate solution for simplifying your baby's feeding routine.
We understand the importance of providing the best care for your little one, and our innovative product is designed to make your life easier while ensuring your baby's safety and well-being.
Steriliser: Our 3-in-1 system begins with a powerful bottle steriliser. It eliminates harmful bacteria and germs from your baby's bottles, teats, and other feeding accessories. With steam sterilisation technology, you can trust that your baby's bottles are always clean and safe, reducing the risk of infections.
Dryer: This feature ensures that your baby's bottles and accessories are thoroughly dried, preventing moisture-related contamination. You can have peace of mind knowing that everything is ready for your baby's next feeding, free from any lingering moisture.
Warmer: Say goodbye to the hassle of waiting for a pot of water to heat up or using a microwave, which can create hotspots in milk or formula. Our bottle warmer gently and evenly heats your baby's bottles to the perfect temperature, preserving essential nutrients and ensuring a consistent feeding experience.
Key Features:
Safety First: Our device ensures your baby's safety by effectively eliminating harmful bacteria and germs through steam sterilisation. It is also BPA-free and features automatic shut-off during drying for your peace of mind.
Precise Warming: Achieve gentle and uniform bottle warming to the ideal temperature, ensuring your baby's comfort.
Moisture-Free: The built-in dryer guarantees perfectly dry items ready for immediate use, preventing moisture-related contamination.
Time-Saving: Save time and effort with our efficient 3-in-1 system, including fast sterilisation in just 10 minutes and a 24-hour warming system.
Space-Saver: Our steriliser can accommodate up to six bottles and feeding accessories, optimising your counter space.
User-Friendly: The digital LED display and stylish press buttons keep you informed throughout the sterilising or heating cycle, making operation a breeze.
Ultra-Hygienic: Maintain impeccable hygiene with all bottles and accessories ready for use.
At Eonian Care, we are committed to delivering high-quality products that support you in providing the best care for your baby. 
This is the perfect addition to your parenting toolkit, offering convenience and peace of mind throughout your baby's early years.
Get it now! Your baby deserves the best, and we're here to help you provide it.

Share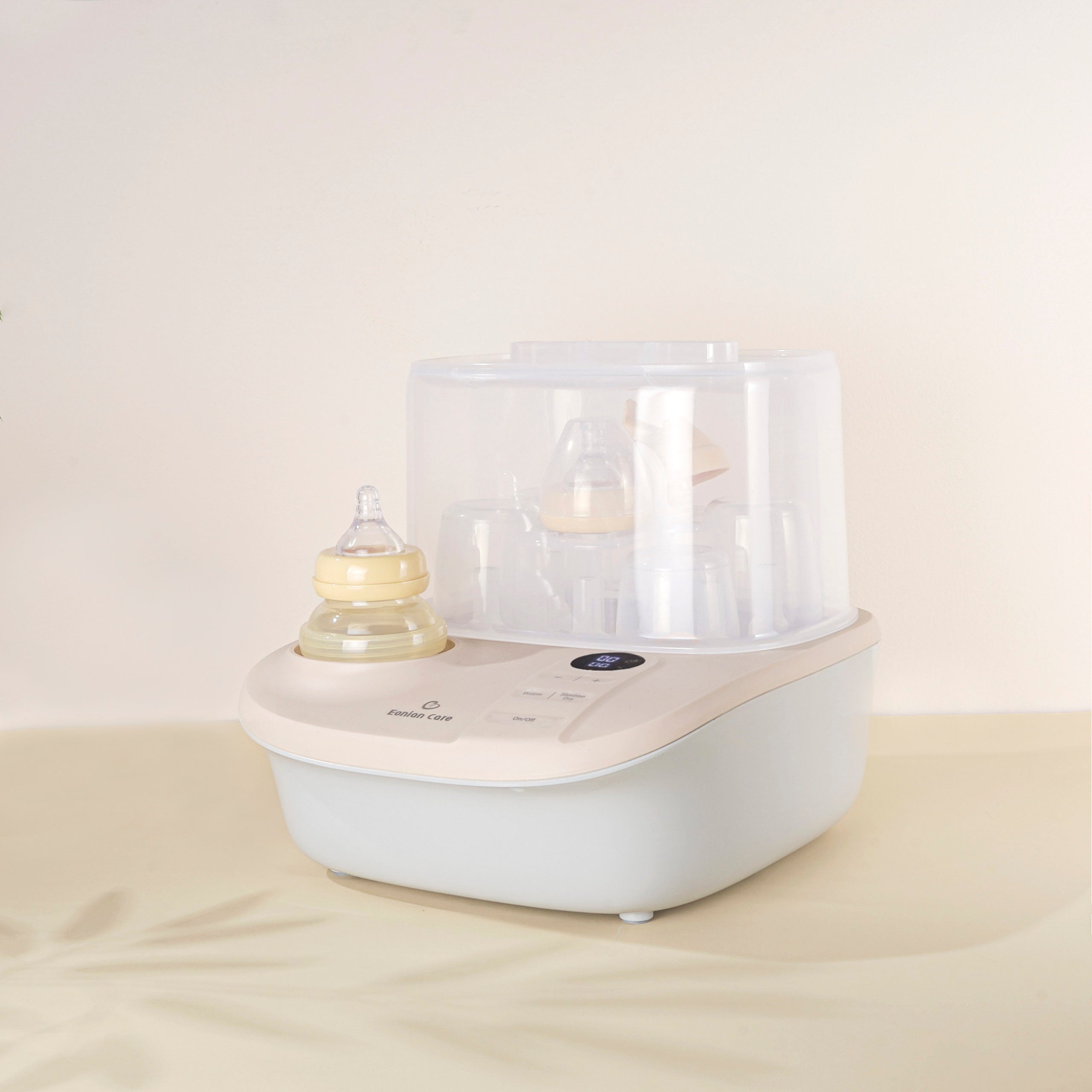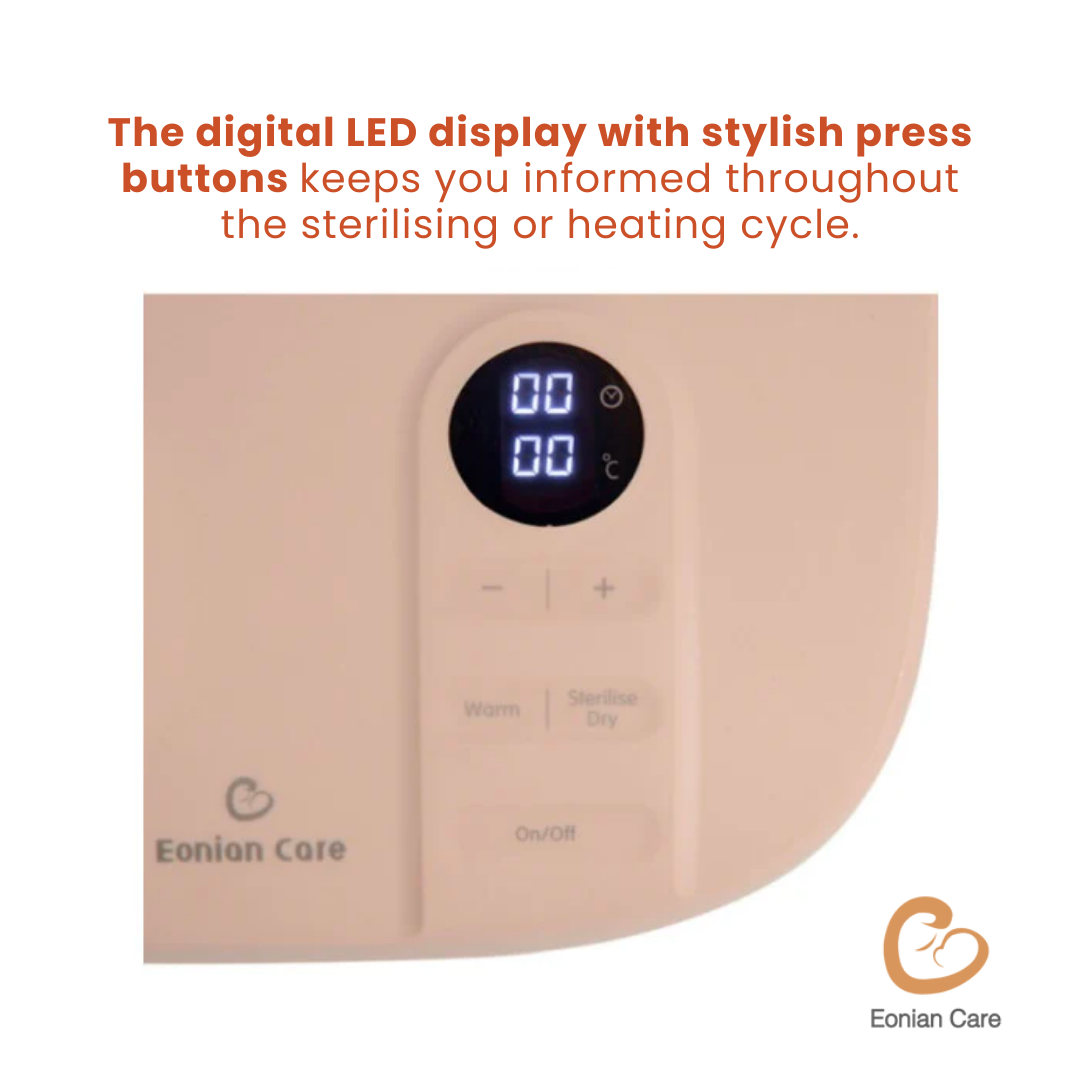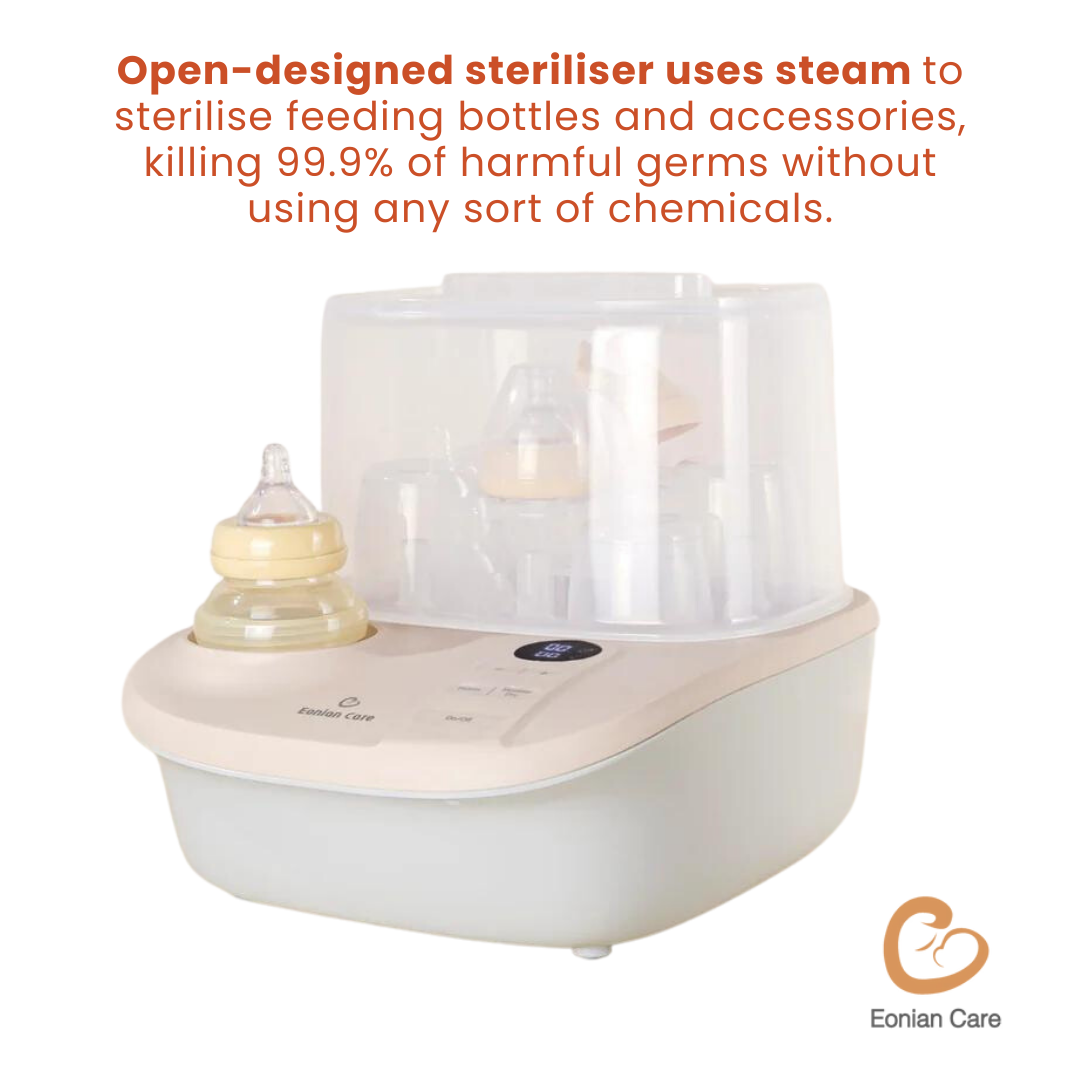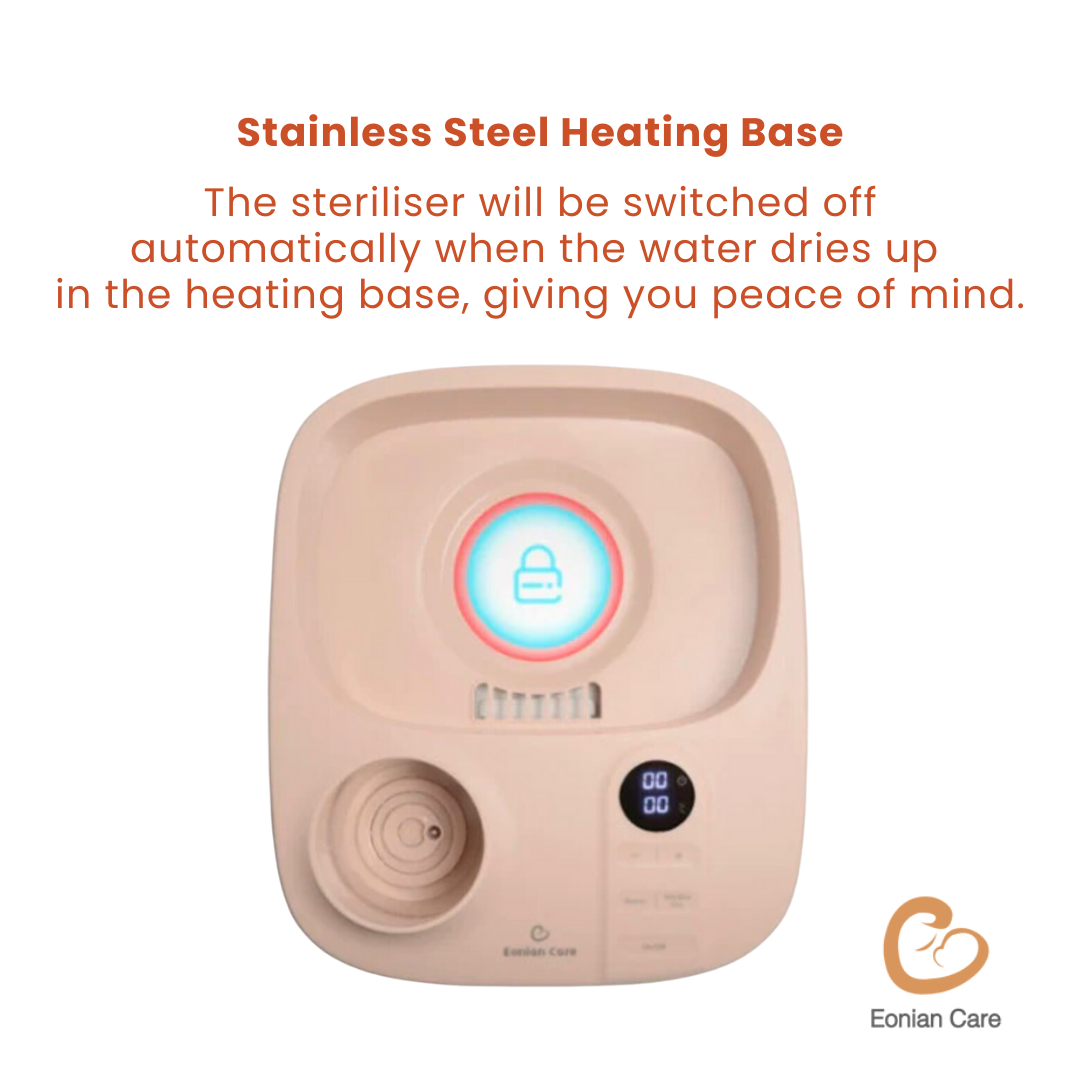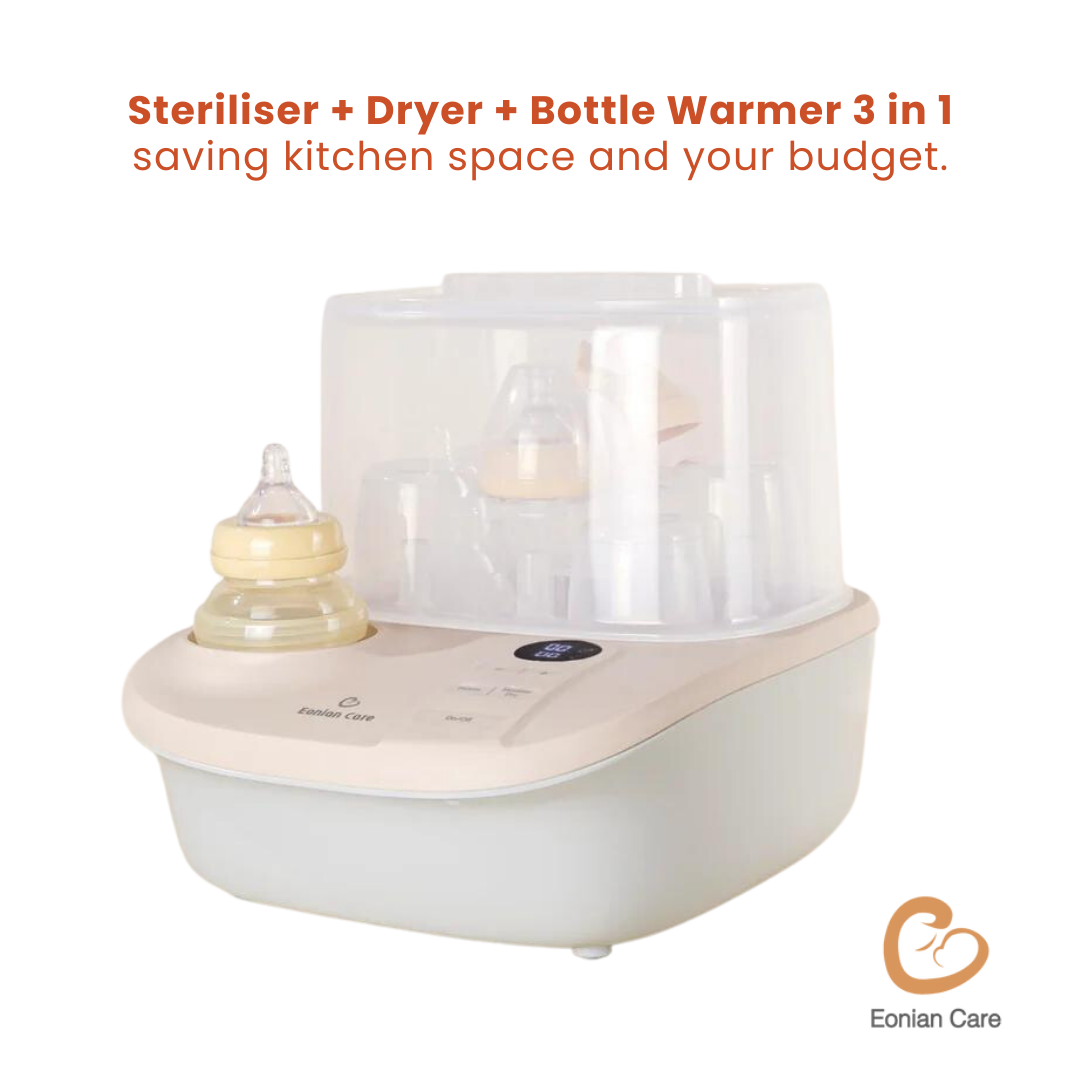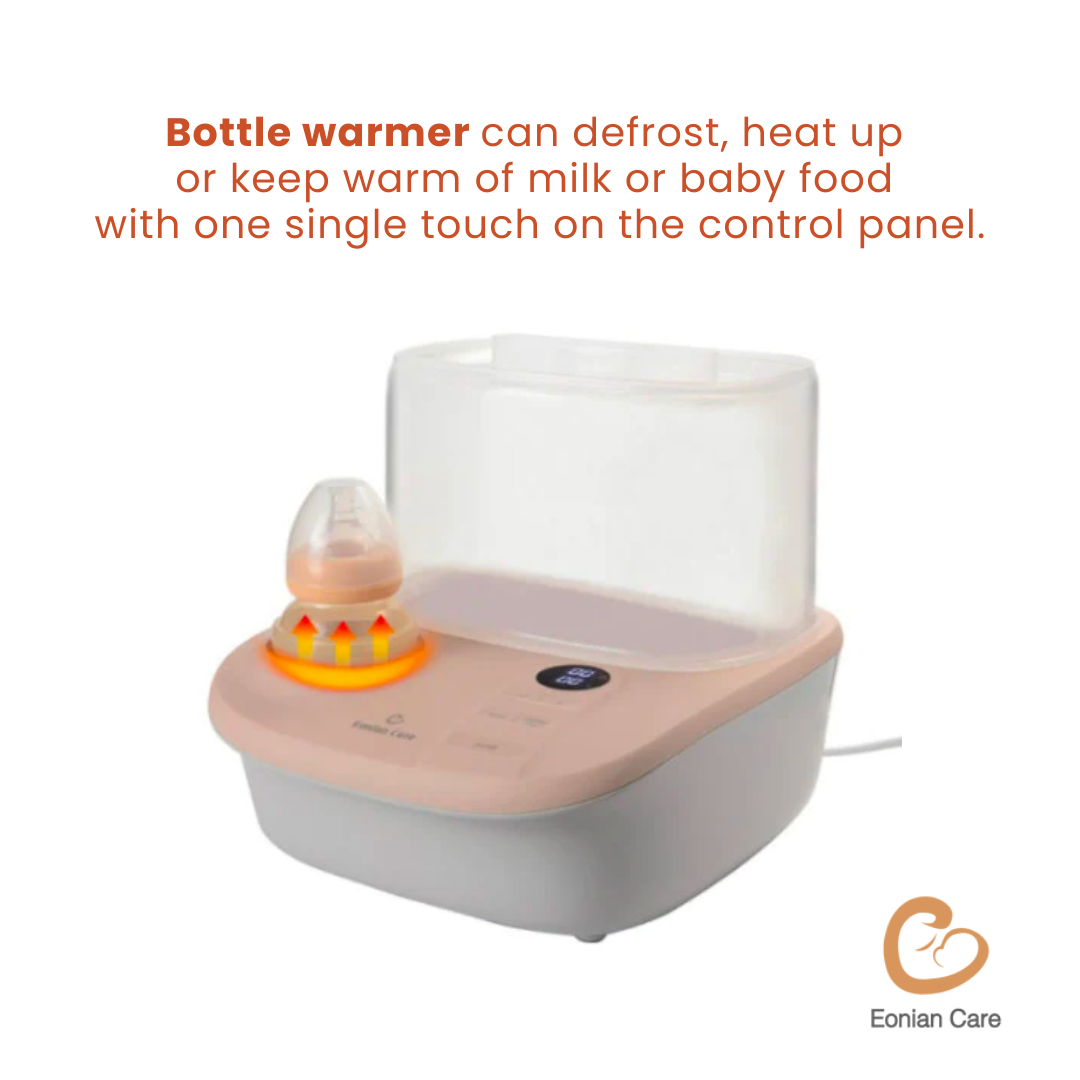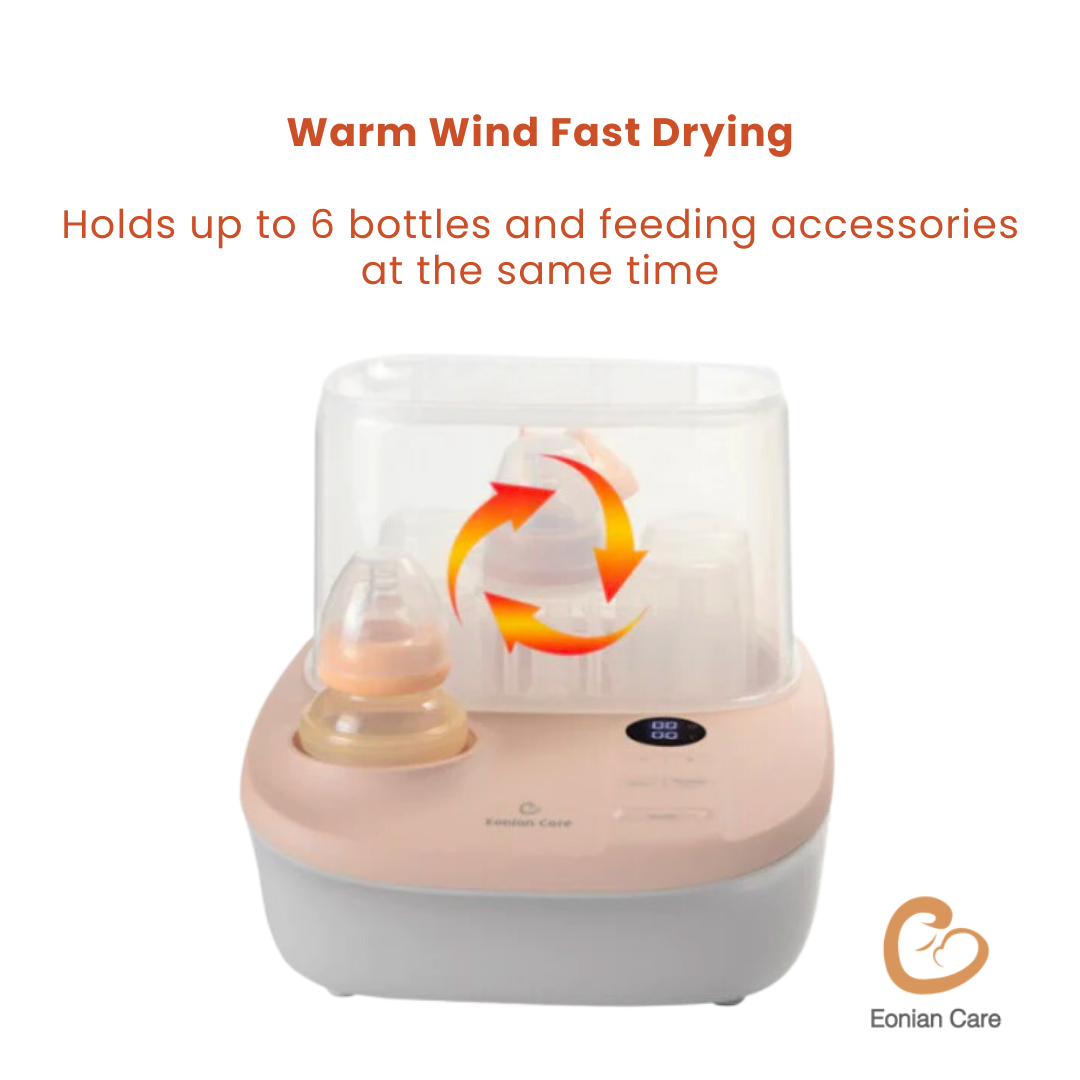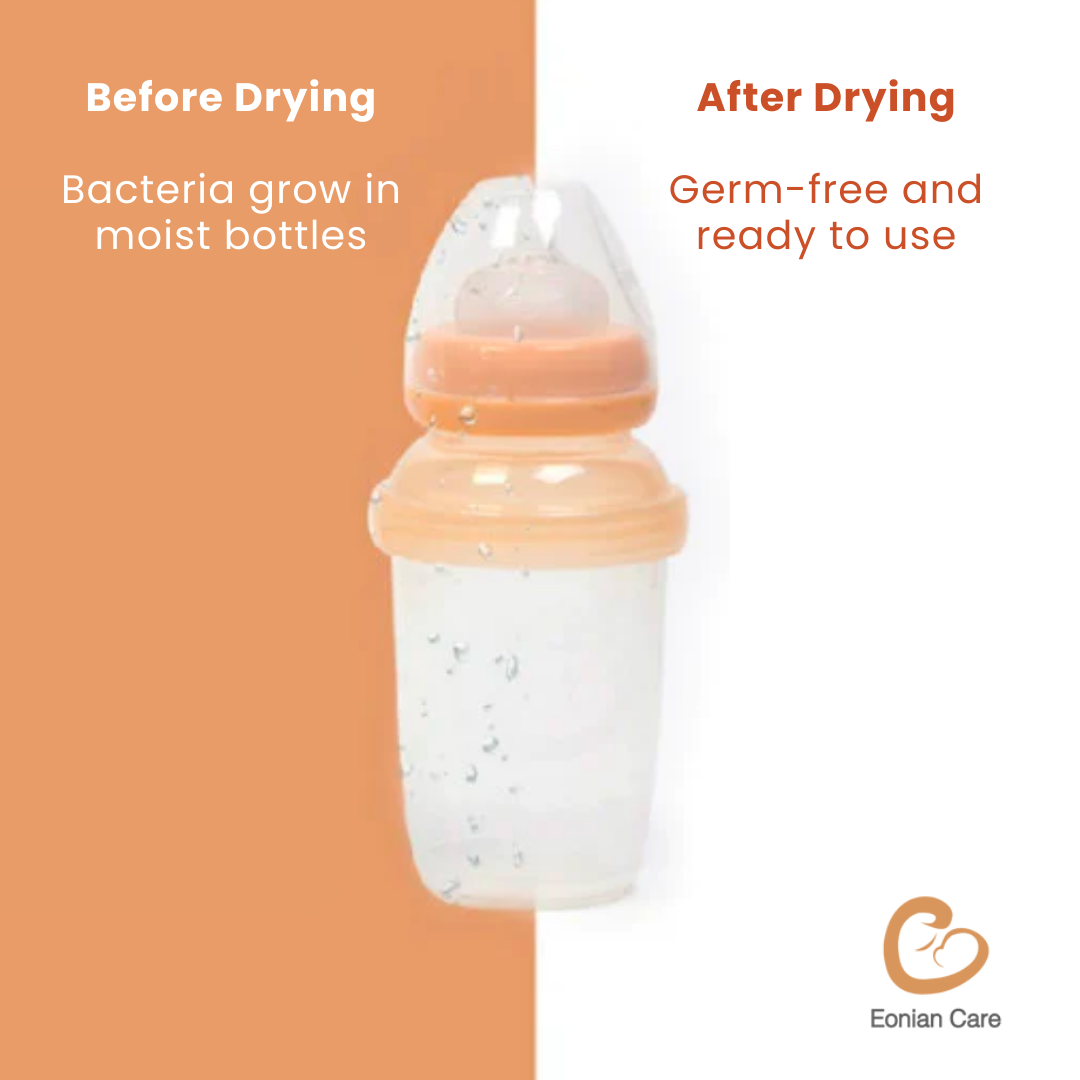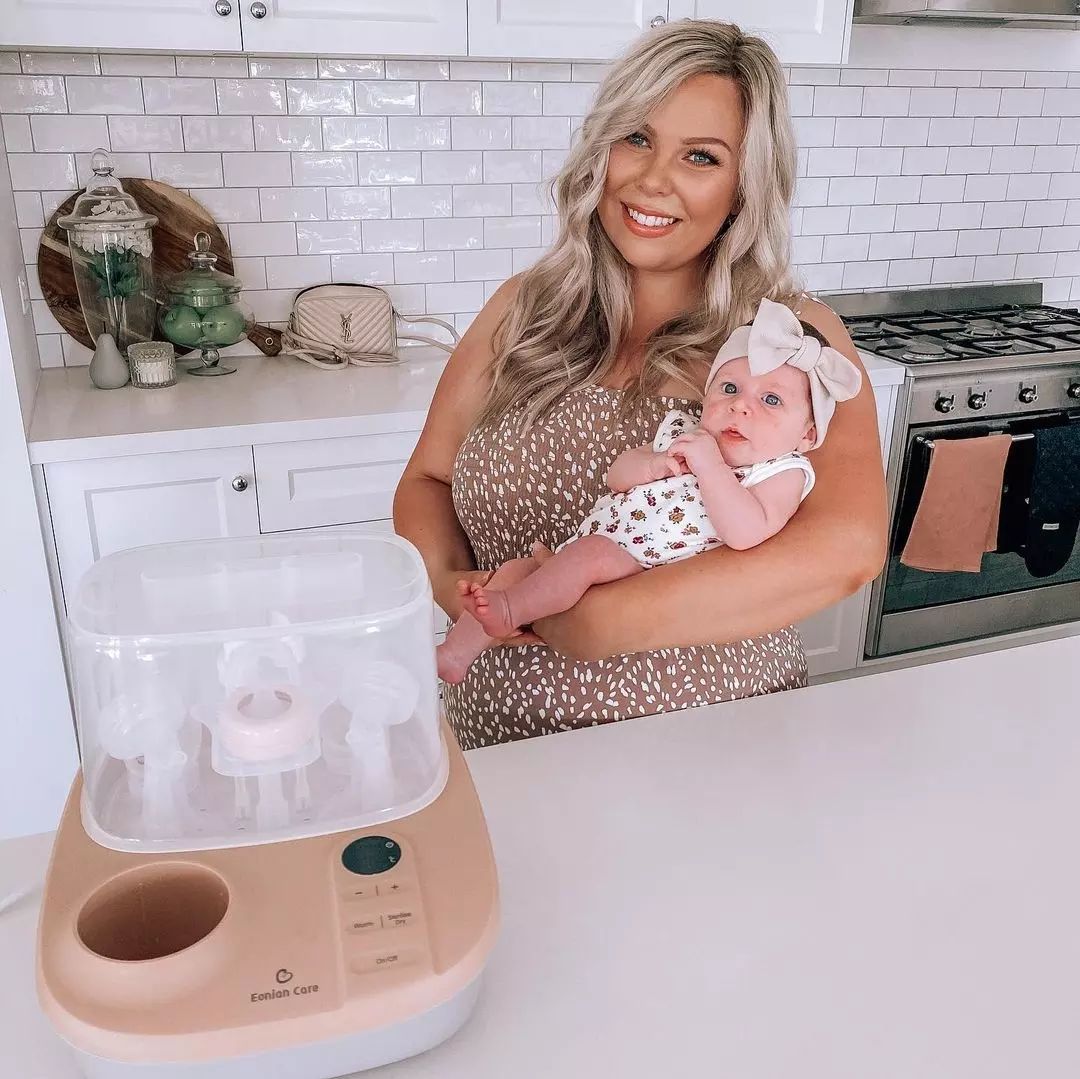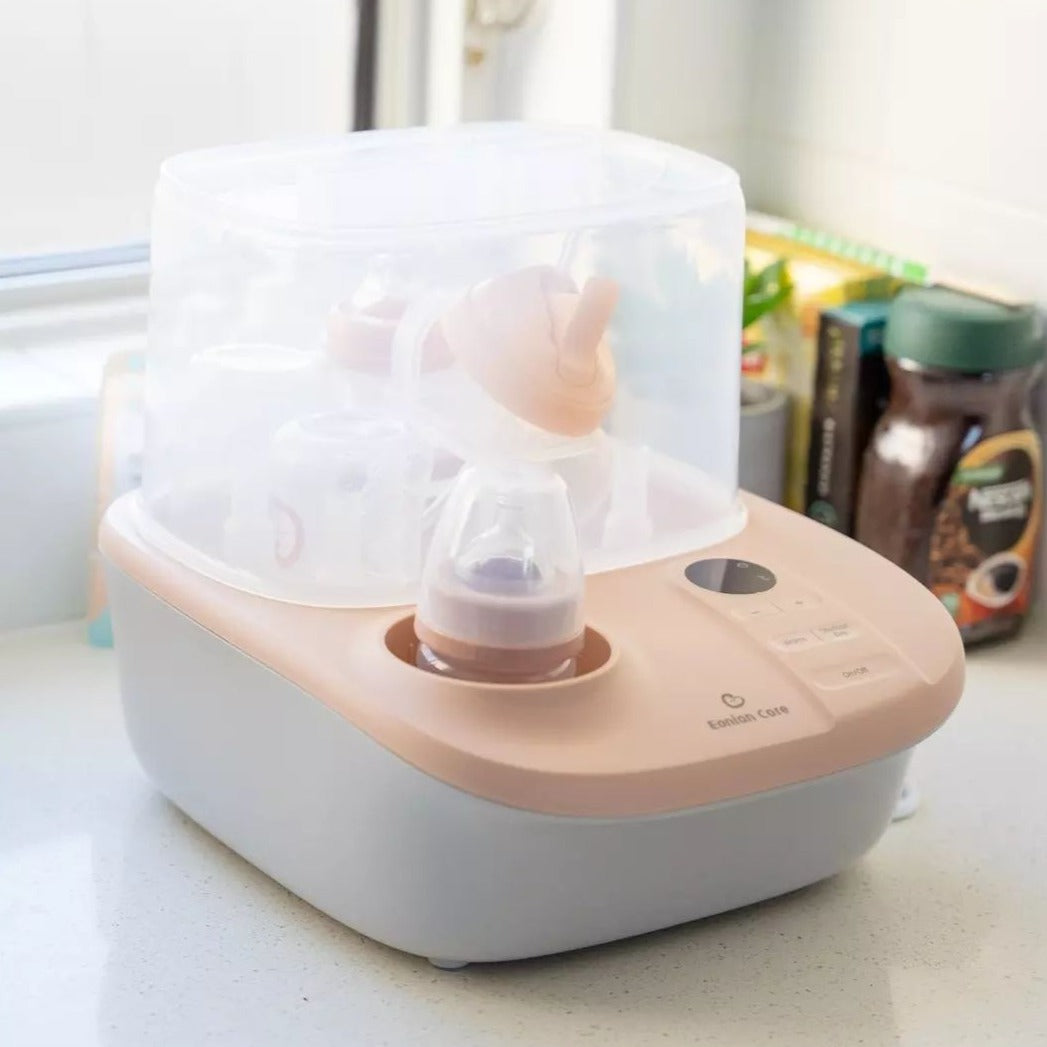 Mum's Best Invention
I've said it before, and I'll say it again – this is mom's best invention. It simplifies my life and ensures my baby gets the best care possible.
The Perfect Baby Shower Gift
If you're looking for the perfect baby shower gift, look no further. This 3-in-1 system is a game-changer for any new mum.
Worth Every Penny
It might seem pricey, but it's worth every penny. The convenience and peace of mind it brings are priceless for any mum.
Highly Recommend
I can't recommend this enough. It simplifies baby feeding routines and allows me to focus on what really matters – bonding with my baby.
Happy Bub, Happy Mum
A happy baby makes for a happy mum, and this 3-in-1 system contributes to both. It's worth its weight in gold.
FAQs
HOW LONG DOES IS TAKE TO STERILISE, DRY, AND WARM BOTTLES?

The electric steriliser was designed with a 10-minute sterilising phase to ensure effective sterilisation. Drying time can take 30 to 50 minutes depending on equipment size and material. Bottle defrosting takes 10 to 20 minutes with an additional 10 minutes to warm up to 40℃.
Which bottles fit in the Eonian Care electric sterilisers?

All bottles, no matter what brand or type, will fit in the steam steriliser. You can even put breast milk pouches directly in the bottle warmer for defrosting/warming.
How much water should I use in my electric steriliser?

We recommend using exactly 130ml of filtered water in the steriliser, and 60-200ml of filtered water in the bottle warmer.